Events
Upcoming & Recent
[ W3FI | Cliff Evans | @ UCD | Dialog:City | GCC w/ Bruce Mau | Krzysztof Wodiczko]
W3FI
W3FI is a social movement, a philosophy, a path to responsible connectivity between our online/offline lives and to each other. thew3fi.com
Terrace Gallery @ Artisphere
|
www.artisphere.com/spaces/terrace-gallery.aspx
EXHIBITION DATES: December 6, 2012 - January 20, 2013
OPENING RECEPTION: December 6, 7:00PM - 10:00PM
LOCATION: Terrace Gallery @ Artisphere, Arlington, VA
404 International Festival of Electronic Art
|
www.404festival.com/eng
EXHIBITION DATES: October 18-20, 2012
OPENING RECEPTION: October 18, 5:00PM
LOCATION: Plataforma Lavardén, Rosario, Argentina
ASSOCIATED EVENTS: 404 International Festival of Electronic Art Conference, October 17, 5:00PM, at National University of Rosario
Currents: Santa Fe International New Media Festival
|
www.currentsnewmedia.org
EXHIBITION DATES: June 22 - July 8, 2012
OPENING RECEPTION: June 22, 6:00PM - 12:00AM
LOCATION: El Museo Cultural de Santa Fe, Santa Fe, NM
Art&&Code 3D
|
artandcode.com/3d
PRESENTATION DATE: October 22, 2011
LOCATION: Carnegie Mellon University, Pittsburgh, PA
BIODOME: An Experiment in Diversity
|
www.bmoca.org
EXHIBITION DATES: June 23 - September 11, 2011
OPENING RECEPTION: June 23, 6:30PM - 10:00PM
LOCATION: Boulder Museum of Contemporary Art, Boulder, CO

Cliff Evans
Artist talk by Cliff Evans followed by a round table discussion on the topics of digital copyright issues, cinema narratives, image manipulation and more.
DATE:
January 8, 2010
TIME:
11:00AM
LOCATION:
Humanities Institute Room, Sturm Hall 286, University of Denver
PARTICIPANTS:
Cliff Evans, artist, New York
Diane Waldman, Associate Professor, Mass Communications and Journalism Studies
Derigan A. Silver, Ph.D., Assistant Professor, Mass Communications and Journalism Studies
Shawn Huelle, GTA, English Department
Moderators: Laleh Mehran, Associate Professor in Electronic Media Arts & Design, and Christopher Coleman, Assistant Professor in Digital Media Studies.
ASSOCIATED EVENTS:
Cliff Evans' CITIZEN exhibition in the Victoria H. Myhren Gallery, Jan 7–Feb 21, 2010.
Opening Reception: Thursday, January 7, 5–8 PM
Brooklyn-based media artist Cliff Evans creates multi-screen photo-animation spectaculars that incorporate humor and a critical eye to confront what he calls the "mediated and constructed landscapes of fear and desire" in contemporary American culture. Using recognizable images and personalities culled from the internet and projected throughout the gallery, Evans creates an immersive environment of rhythm, sound, and motion. He is represented by Curator's Office, Washington, DC and Stephan Stoyanov Gallery, New York, NY.

CO-LAB at UCD
CO-LAB moderated a forum on re-imagining the role and definition of contemporary art and culture in the 21st Century in the Contemporary Art Seminar course at the University of Colorado, Denver.
Dialog:City Celebrates
Dialog:City celebrates the exciting events and the many dedicated creative voices that came together to support, produce, problem solve, organize, document, and advocate for this innovative initiative. All the Dialog:City partners and collaborators came back together for a reception to share some of the phenomenal images that came from the week of events, and reflect on what was experienced and imagine what could be done together in the future.
Who: More than 100 artists, thinkers, students, designers, and community organizers
Special Guest: Bruce Mau, Dialog:City partner and leading design visionary
What: Interactive Reception and Gathering for Dialog:City
When: October 30th from 5-7pm
Where: The Marry Harris Auditorium Building at the Rocky Mountain College of Art and Design
Co-Sponsored and Produced by:
The Institute for Experimental Studies at RMCAD
CO-LAB
Green Constitutional Congress
With the nation engaged in a heated dialogue on sustainability issues, "The Green Constitutional Congress: A Symposium of the Future of Environmental Action" has convened some of the most influential grassroots and policy leaders of the sustainability movement on the first day of the 2008 Democratic National Convention.
The goal is to expand our understanding of sustainability and explore why it is vitally important in today's political landscape. "The Green Constitutional Congress" aims to nurture collaboration on a large-scale agenda and to call for the next president to take serious and expansive policy action. Bruce Mau will guide the conversation of "The Green Constitutional Congress" with "In Good We Trust," a multi-year examination of American foreign policy being conducted by Mau and his design agency, Bruce Mau Design (BMD). "In Good We Trust" is a sequel to Bruce Mau Design's internationally acclaimed exhibit and ensuing movement called "Massive Change."
"The Green Constitutional Congress" is a part of Dialog:City, an exhibition converging art, democracy and digital media, presented by the City of Denver and the Democratic National Convention Host Committee. CO-LAB volunteered to produce the symposium, dealing with nearly all technical and organizational aspects of the event; assembling and designing the program with the help of Ranzenhaus Design, stage direction, and resource logistics.
Following the symposium, CO-LAB orchestrated a unique method of continued dialogue where the audience voiced their ideas and concerns at "Media Stations" in addition to talking to the GCC speakers in smaller group settings. The lobby was transformed with conversational spaces, interview stations and soapboxes to take advantage of the natural inclination people to discuss the event they just attended. Our team of 20 volunteers helped guide and document the process of letting the audience have a voice.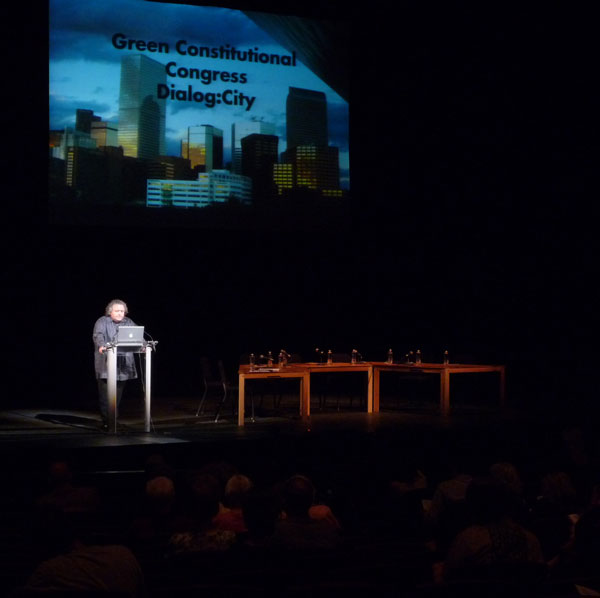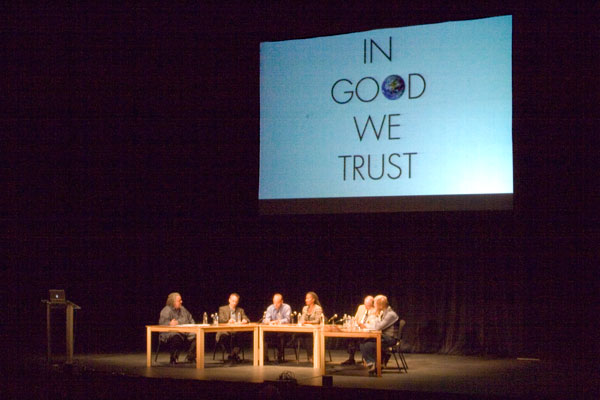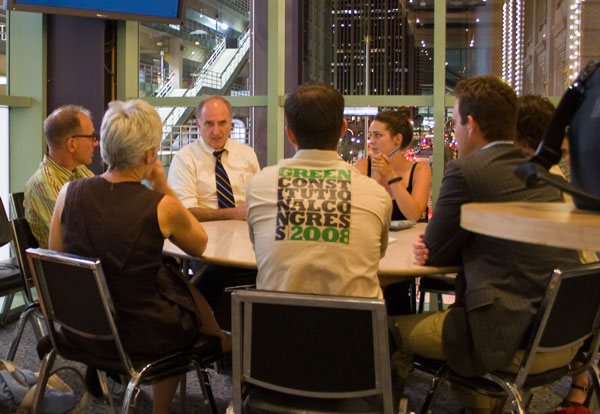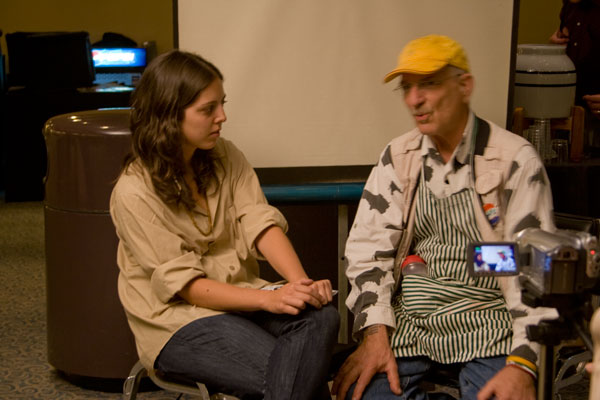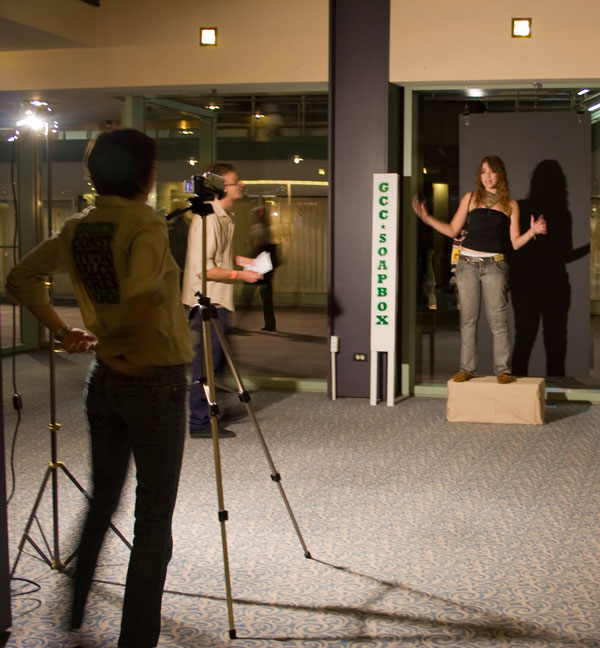 Krzysztof Wodiczko
Wodiczko's multi-media, large-scale projection the Veterans Vehicle Project gives voice to Veterans who struggle with homelessness. Working intimately and collaboratively with Denver-based Veterans, Wodiczko's current projection will premeire on 14th & Grant Street. The Veterans Vehicle Project illustrates the complexity of social reintegration into civilian life for returning soldiers, by presenting the stories of veterans who have experienced homelessness, in addition to helping us learn from their war and postwar experiences. This projection aims to empower this community by raising the level of public discourse on the variety of impacts direct and secondary impact creates. The veteran collaborators are "co-authors" advising and activating the project. The Veterans Vehicle Project "shoots" text and sound from a redesigned Humvee, making a truly mobile social theater.
CO-LAB worked closely with Krzysztof Wodiczko to produce both the promotional video and the audio/visual feature of the site specific installation. CO-LAB participants also volunteered to thoroughly document the project with both still and video cameras.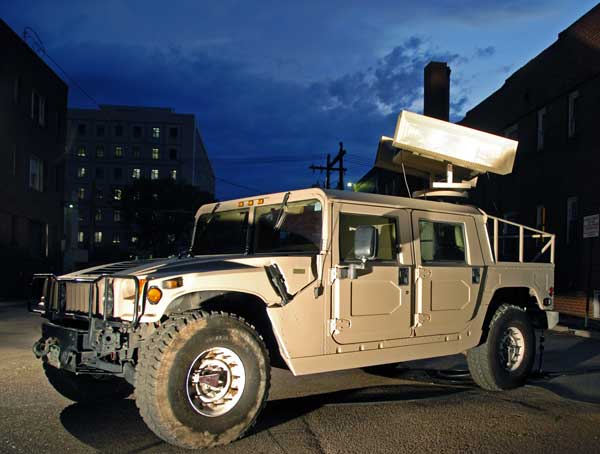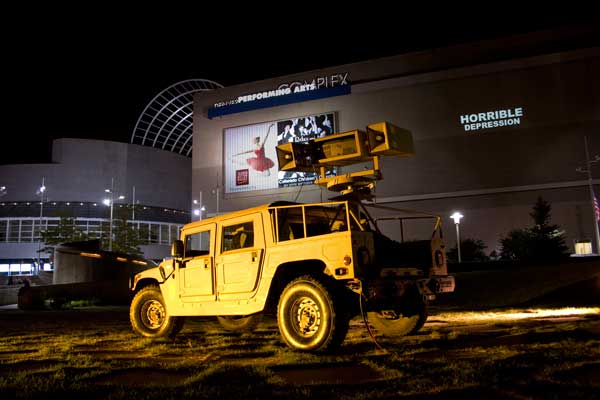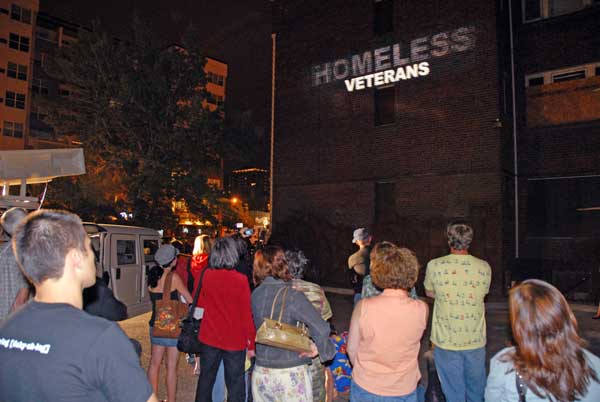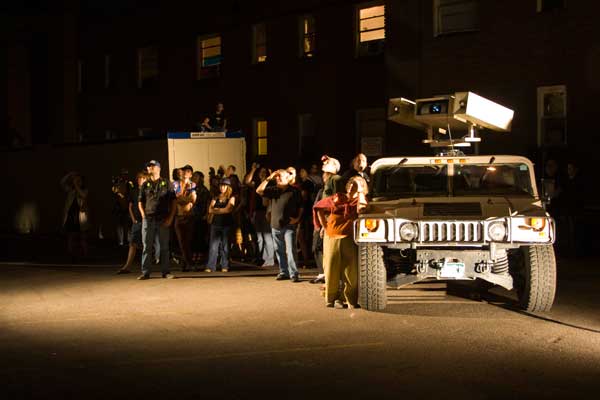 [ Cliff Evans, CO-LAB at UCD, Dialog:City Celebrates, GCC, Krzysztof Wodiczko]